Four Steps to the Jubilee for young Boys and Girls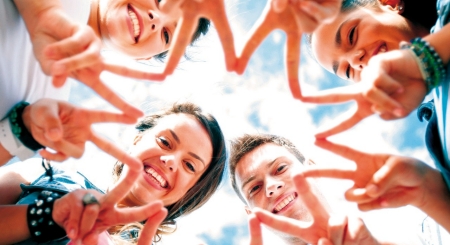 First: Pilgrimage
The journey begins with preparation for the Sacrament of Reconciliation. For the Groups that will have not already prepared while traveling to Rome, their priests can prepare their same groups for the sacrament at the 3 Churches dedicated to the Jubilee: San Salvatore in Lauro, Santa Maria in Vallicella (Chiesa Nuova) and San Giovanni Battista dei Fiorentini. The route then proceeds from these Churches across either Ponte Sant'Angelo or Ponte Duca D'Aosta, to reach Piazza Pia in front of Castel Sant'Angelo, where the reserved walkway for pilgrims begins. The path continues along Via della Conciliazione to arrive, finally, at Saint Peter's Square.
The celebration of the Sacrament of Reconciliation will take place in Saint Peter's Square, inside the arms of the Colonnade, where confessionals will be set up.
Once they have finished confession, the groups will pass through the Holy Door. Inside the Basilica they will proceed to the Tomb of Peter for the profession of faith.
Attention! Access to the pilgrim walkway will be granted only to those who show the pass received in the Pilgrim Kit.
Second: Youth Rally
Those who have finished the Jubilee journey to Saint Peter's can proceed to the Olympic Stadium for the youth rally. The estimated travel time, in a group on foot, from Saint Peter's square is about 2 hours. Along the way there will be stands for the distribution of a boxed lunch for the youth, available for those who will have requested it according to the instructions with the online registration form (Check also the box in the right hand column of this page).
The rally will end around 22:00.
Third: Holy Mass with Pope Francis
On Sunday morning at 10:00 there will be the Mass presided by Pope Francis. Depending on the number of pilgrims registered and present in the Square, there may be a separate seating area reserved for the pilgrims for the Jubilee for Boys and Girls. Anyone entering this area will need to show the Pass received in the Pilgrim Kit.
Fourth: Tents of Mercy
Seven squares in the Central Historic District of Rome will host seven tents that will recount to the pilgrims, and to the citizens of Rome and of the world, testimonies about the spiritual and corporal works of mercy. The seven squares will be: Piazza della Minerva, Piazza del Popolo, Piazza Farnese, Piazza Navona, Piazza S. Maria in Trastevere, Piazza. S. Maria in Vallicella, and Piazza Pia at Castel Sant'Angelo.
Given the full schedule during the days, it will be possible to tour the center of Rome and visit the tents on Saturday either in the morning or immediately after crossing through the Holy Door (before going to the Olympic Stadium for the rally); or else on Sunday afternoon after the Mass; or, for those who extend their stay in Rome, during the day on Monday, April 25 (national holyday in Italy).
---