The Jubilee of Mercy presented- Inspired by the Spirit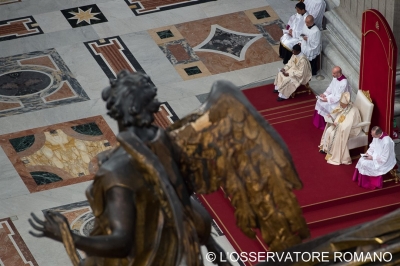 A wealth of activities will mark Pope Francis' Holy Year of Mercy which will be celebrated from 8 December 2015 to 20 November 2016. Archbishop Rino Fisichella, President of the Pontifical Council for the New Evangelization — the Council organizing the Jubilee — presented the events at a press conference at the Holy See Press Office on Tuesday, 5 May.
The idea of the Jubilee came from the Spirit, he explained, revealing that last year on 28 August, the Holy Father told him: "I would really like a jubilee of mercy".Thus it truly came from the Spirit, not just from a desire but as the Pope was inspired through the action of the Holy Spirit".
In addition to pointing to the most important events, the Archbishop recalled that the Pope will participate in a symbolic way in order to reach the "peripheries" of human existence and "to give testimony to his closeness and attention to the poor".
Archbishop Fisichella also presented the logo of the Holy Year which "represents a summa theologiae of the theme of mercy and the motto which accompanies it" is taken from the Gospel of Luke (6:36): merciful like the Father.