The relics of Saint Pio and Saint Leopold in Rome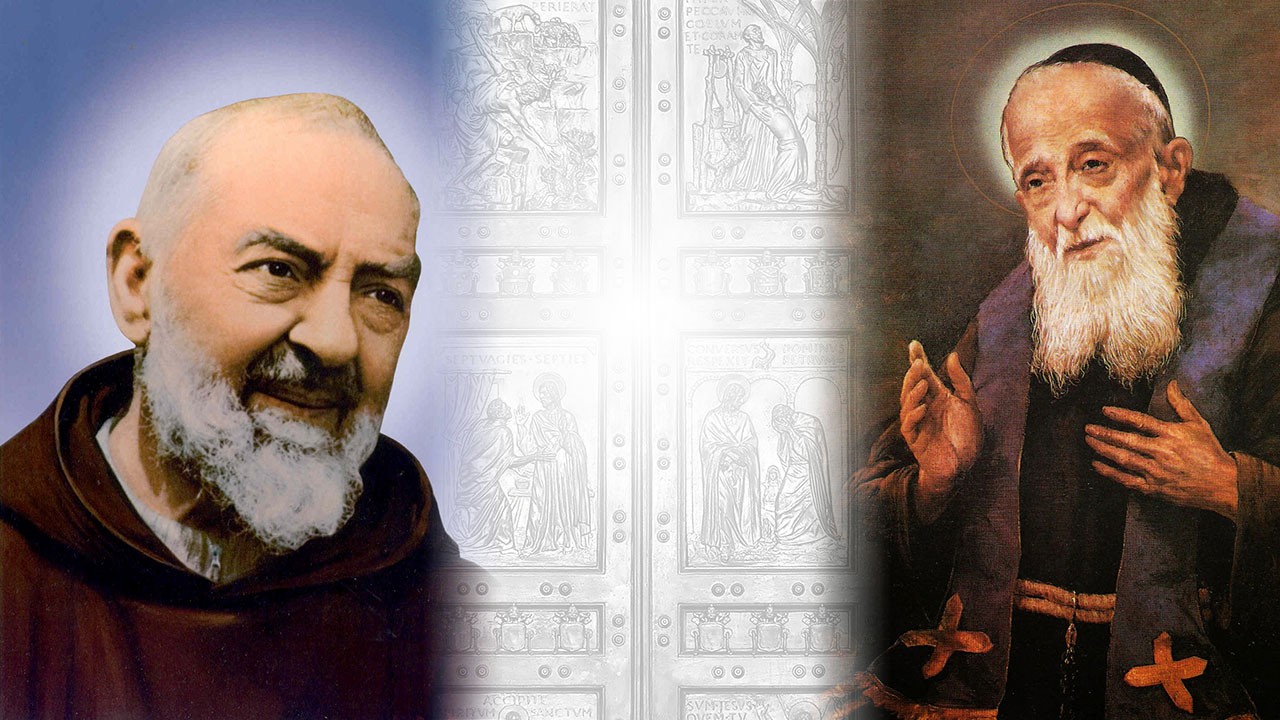 On Ash Wednesday, the Holy Father will officially commission the Missionaries of Mercy (M.V. 18) with their mandate.
For this occasion the mortal remains of Saint Pio da Pietralcina and Saint Leopoldo Mandic will be brought to Rome. These are two great saints known by everyone as examples of Mercy.
The urns containing the relics of the saints will be in Rome from 3 to 11 February; below is the schedule of the main events planned:
3 February
Basilica of Saint Lawrence Outside the Walls (San Lorenzo fuori le Mura)
15:00: Liturgy welcoming the relics of Saint Pio and Saint Leopoldo, presided by Fr. Gianfranco Palmisani, Provincial Minister of the Friars Minor Cappuchin of the Province of Rome
18:00: Celebration of the Eucharist presided by S. Em. Card. Agostino Vallini, Vicar General of Rome
20:30: Prayer Vigil presided by Fr. Mauro Jöhri, Minister General of the Friars Minor Cappuchin
4 February
Basilica of Saint Lawrence Outside the Walls (San Lorenzo fuori le Mura)
7:30: Celebration of the Eucharist
11:30: Celebration of the Eucharist
18:00: Celebration of the Eucharist
20:30: Interobbediential Penitential Liturgy presided by S.E.R. Mons. Rino Fisichella, President of the Pontifical Council for the Promotion of the New Evangelization
Jubilee Church San Salvatore in Lauro
22:00: Celebration of the Eucharist presided by S.E.R. Mons. Rino Fisichella, President of the Pontifical Council for the Promotion of the New Evangelization
Followed by: nighttime prayer vigil
5 February
Jubilee Church San Salvatore in Lauro
14:00: Celebration of the Eucharist presided by S.E. Mons. Michele Castoro, Archbishop of Manfredonia, Vieste, San Giovanni Rotondo
16:00: Procession with the relics of the two saints to Saint Peter's Basilica
Reception of the relics by S. Em. Card. Angelo Comastri, Archpriest of Saint Peter's Basilica
6 February
Saint Peter's Square
10:00: Jubilee Audience with the Holy Father for Padre Pio prayer groups
14:00: Exposition of the relics for veneration by the faithful in Saint Peter's Basilica
7 – 8 - 9 February
Saint Peter's Basilica
Exposition of the relics for veneration by the faithful
10 February
Saint Peter's Basilica
17:00: Solemn Eucharistic Celebration of Ash Wednesday with Pope Francis, and the commissioning of the Missionaries of Mercy
11 February
Saint Peter's Basilica
7:30: Celebration of the Eucharist
presided by S.E.R. Rino Fisichella
Departure of the relics of the two saints