The Blessed Virgin Mary "Door of Mercy" in Rome for the Jubilee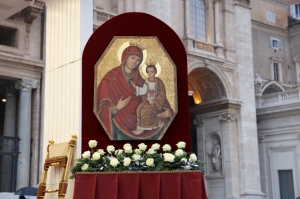 Just a day before the beginning of the Jubilee, for the first time in its history, the icon of the Blessed Virgin "Door of Mercy" is arriving in Rome from the Church of Przemienienia Panskiego in Jaroslaw, Poland.
The miraculous painting, venerated since 1772, will be on display for the faithful tomorrow in Saint Peter's Square, where it will remain until 9 December, 2015.
The sacred icon of the Blessed Virgin Mary, "Door of Mercy" is being moved from its location in the Greek-Catholic Church in Jaroslaw for the first time since it was made around the seventeenth century, to come to Rome the day before the beginning of the Jubilee. This exceptional occurrence, made possible by accords between the Ambassador of Poland to the Holy See, Piotr Nowina-Konopka, and the authorities responsible for Cultural Assets in Poland, will give the best possibility for venerating the miraculous painting to thousands of the faithful as they participate in the opening of the Jubilee of Mercy. Historical sources, dating to 1772, attest that those who went to venerate the Sacred Icon received miracles. For this reason, Popes Clement XII and Clement XIV granted indulgences to the faithful who requested graces through Our Lady "Door of Mercy". The cult of the miraculous image on wood was also attested to and confirmed in the Papal Bull of Pius VI in 1779. The height of the fame of this icon declined greatly with the outbreak of World War II, in particular because of the censures put in place by the communist government that took control immediately after the War. In 1996 Saint John Paul II crowned this icon of Our Lady.