Jubilee for Pilgrimage Workers and Supporters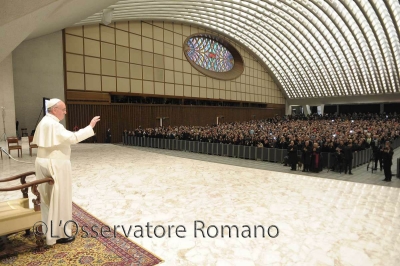 On October 2, the organizing committee for the Jubilee for Pilgrimage Workers and Supporters met to discuss the final details regarding the program of events for this international meeting of parish priests, shrine/sanctuary rectors and personnel, and all involved in pilgrimages, which is to be held in Rome on January 19-21, 2016. The conferences are entitled: Pilgrims in the Footsteps of Jesus: The Shrine as an Experience of Mercy and From the Shrine to the Parish: The Pilgrimage as an Integral Part of Pastoral Work in Parishes. These conferences will be given in various churches of Rome according to language groups (Italian, Spanish, French, and English). There will also be catecheses given in those four languages on the theme of mercy. On the final morning of the gathering, participants will make their pilgrimage through the Holy Door of St. Peter's Basilica and will then arrive at the Paul VI Hall, in the Vatican City State, for an audience with the Holy Father.
The selection of this international gathering as the first major event of the Holy Year will symbolically serve to highlight that this Jubilee of Mercy is a true pilgrimage and should be lived as such by all.